We are constantly searching the whole of the UK, and much further afield, for those quirky, strange and unique gifts,as well as the fun toys for the dads…er we mean kids! Where possible we look to work with local, small independent suppliers. But we are not afraid to go much further afield in search of something we think you may like. And, occasionally, we'll just buy something because it simply makes us laugh!
Hand Painted Gifts – All the gifts shown here are hand painted by a great couple from a narrow boat called Harriet Ann. They only called in for some diesel and a brew but by the time they left they inundated with orders and items to paint for us. Everything from tea caddy's to mugs and foot stools and because they are hand painted each one is unique!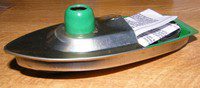 Steam Powered "Putt Putt" Boats - A Blast from the past! Simply top up the boat with water, light the tee light, place in a bowl of water then watch and listen as the boat moves under it's own steam! (NOT SUITABLE FOR CHILDREN)
Hand Carved Walking Sticks – These lovingly, hand crafted walking sticks truly are a work of art. The one shown here in the picture took over 20 painstaking hours to carve.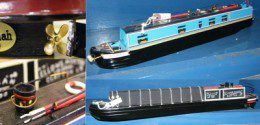 Hand made Model Boats - We stock a variety of these type of models ranging from 3" to 15" in length. They are for display purposes only and no photograph can do justice to the intricate detail incorporated onto each one.
Tyred Belts - These fantastic belts are all handmade made from old bicycle tyres. The tyres are washed, scrubbed and disinfected before being transformed into these wonderful belts and finished with a high quality, solid brass buckle (no cheap nasty buckles here!).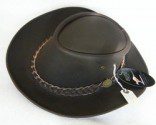 Genuine Leather Boater's Hat- It's a hat, made from leather and boaters wear them. What else can we say?
These are just a few examples of our gifts and presents. But there's no substitute for coming in here and taking a browse around. You may find something here that even WE didn't know we had!