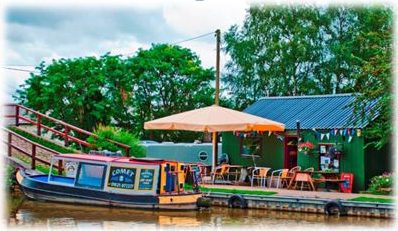 Enjoy a tranquil family day out on the picturesque Macclesfield Canal, at your own leisurely pace, aboard our purpose built day boat "Comet". Whether it's a family day out or a just as a couple or even to gain experience before purchasing your own narrowboat we can cater for you
* We cater for family orientated groups hence we DO NOT accept bookings for Hen or Stag events or "Booze Cruises".
Hire Rates and times:
£130 per day weekdays (Mon-Fri)
£160 per day weekends (Sat/Sun & Bank Holidays)
Hire time is from 9am to 5pm
*Prices includes Diesel,Water, Gas, Complimentary Tea & Coffee plus expert tuition.
Capacity:
The maximum capacity is 6 people (including children and infants). STRICTLY ADHERED TO
Facilities:
On board there is a small galley with a sink, 2 gas burners and kettle. The boat has central heating and comes with complimentary Tea, Coffee, fresh drinking water and paper cups all provided. (please
bring your own plates/cutlery etc if required).
There is also a toilet on board..
Hire Time:
The boat is available from 9am onwards. Full tuition is provided on the day and takes around 40 minutes. The return time is between 4:30pm – 5pm. Late return incurs a financial
penalty. We are happy to discuss & recommend routes to take. N.B. Hire times are reduced during late autumn/winter. Hire rates are reduced to reflect this. If interested in hiring during these seasons please phone to discuss.
Security Deposit:
We require a £100 security deposit upfront, over and above the hire fee. This is to secure against loss/damage of equipment and late return. The deposit shall be refunded in full provided the boat is
returned on time, with all equipment, inline with our Ts&Cs.